Wednesday 15 September 2021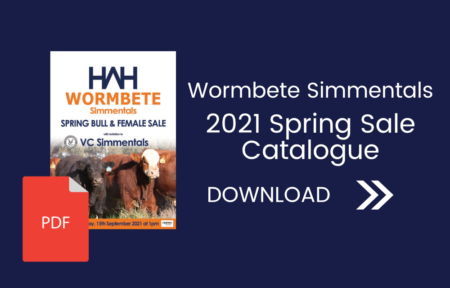 Sale Commences 1pm
on property at "Allawah", Illabo
Inspections from 10am
Download the Supplementary Sheet (pdf)
Interfaced with Auctions Plus

Welcome (excerpt from catalogue)
First and foremost…..welcome! A move to a Spring on-property sale has been on our radar for some time, with its foundations entrenched in the plan to offer our bulls as yealings to provide the astute cattle person with our Simmental genetics sooner and with greater efficiency. The benefits of using yearling bulls is well documented and building momentum. There
is no benefit in these bulls sitting in our paddock until they are rising 2 years of age – they are much better out in your herds working for you! Similarly, our heifers at this age gives you the flexibility to select your sire of choice for them and enables them to fit seamlessly into your breeding program.
The Wormbete cattle in this catalogue were weaned at six months of age onto a Phalaris based pasture. Since late May they have been grazing on broad-scale multi-species crops of vetch, radish, turnip and oats. Hay has been available for supplementary roughage, with a light ration of oats slowly introduced prior to sale. Everything these cattle have eaten since birth has been grown on our property enforcing our traceability and nutritional knowledge. There is nothing fancy or extreme in the preparation of these bulls, as our plan is for them to leave our property and move to yours fit, mobile and ready to work. They are not pumped or pampered – we don't have time for it – and the result are bulls and females bred for resilience, fertility and longevity.
Read more (2021 Catalogue pg 5)
Thank you for your interest in and support of our program. We welcome your enquiry and are here to assist you in any way possible.
Warm Regards, John, Nicole, Mim & Judy Hopkins