(Article Courtesy of The Land Newspaper : Stephen Burn)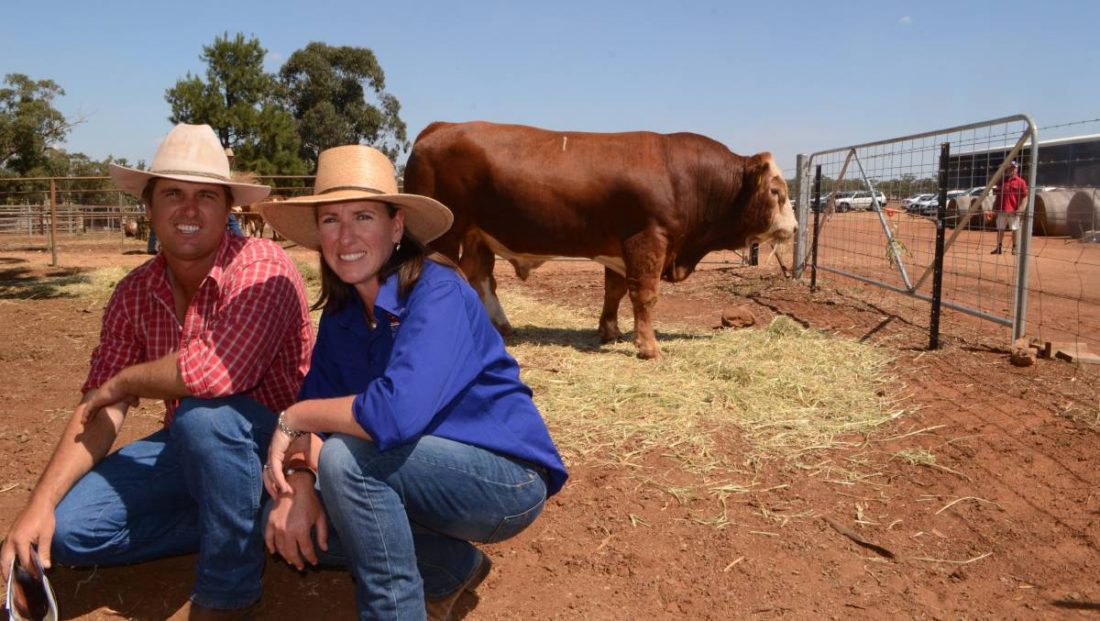 The 3rd annual on-property auction on account John and Nicole Hopkins, Wormbete Simmentals, Illabo, saw 28 bulls sold to top price of $37,000 with average of $7930, and 21 stud heifers sold to $9000 with average price $5762.
Wormbete co-principal John Hopkins said it "was a very emotional sale".
"It was a fantastic result," he said.
"We believe strongly in our cattle and it is wonderful to see other cattle producers also appreciate what we are doing."
Top priced bull at $37,000 Wormbete Kent K22 was bought by repeat buyer Scott York, Billa Park Beef, Dulacca, QLD, who has been breeding Simmentals for over 30 years.
Mr York said he was the best bull in the catalogue and will add depth to his northern herd, where he will be joined to stud Simmental females to produce sires which are purchased by cattle producers looking for a terminal sire in their Bos Indicus F1 herds.
"We sell 100 bulls a year to grass fatteners, so we have to maintain fat cover on our cattle as well as structure and carcase yield."
Other outstanding sales of bulls included Wormbete Kininmonth K104 sold for $20,000 to Hammond Logging Pty Ltd, Bombala and Wormbete Kardina K68 purchased by David and Dianne Hood, Kirkton Station, Ravenswood, Victoria, for $9,000.
Three bulls were sold for $10,000: Wormbete Kenneth K28 to Robert Flannery from Brookfield, Wormbete Katomba K62 to Woonallee Simmentals, Millicent, SA and Wormbete Kensington K51 to Haven Park Enterprises, Wando Vale, Vic.
Guest vendors Stuart and Samantha Moeck, Valley Creek Simmentals, Schofields, sold Valley Creek Knoxville to Michael Crye, from Oberon for $9000.
Mr Crye also bought ten-month-old bulls Valley Creek Logan and Valley Creek Lucas for $10,000 and $6,000 respectively.
Each bull was an ET son of Lancaster Poppy B376 by MR NLC Upgrade U8676.
Stud heifer, Wormbete Kate K21 sold for $9,000 to Grangeburn Simmentals, Mt Gambier, SA.
Other sales of stud heifers included Wormbete Kate K45 to Elaine Sleep, Woolsthorpe, Vic for $8,000 and Wormbete Kate K109 for $5,000 to Paul Ferry, Abington Station, Gundagai.
Valley Creek Klondike, a red heifer by Ellingson Klondike Y123 was bought by Loa Derry Simmentals, Londonderry.
Mr Hopkins paid tribute to the support of his wife Nicole and the staff assisting with the sale, and to the commitment of cattle producers to the Simmental breed.
Landmark and GTSM conducted the sale, with Michael Glasser taking the bids.
Article Courtesy of The Land Newspaper