Thank you to all successful purchasers and the large crowd in attendance at the Wormbete Simmental Sale with invitation to Valley Creek Simmentals on Friday 6 March. Congratulations to Valley Creek Simmentals for the sale top price of $20,000 for VC Joker (P) with bulls averaging a solid $4611.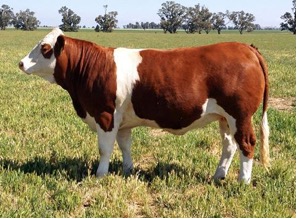 The female draft was a further highlight of the day with the homozygous polled Wormbete Hermoine J41 (P) (pictured) selling to a top of $6250.
The strong demand for heifers saw a terrific average of $4250 achieved – a jump of over $2000 from last year.
It was great to see stud interest, with Wormbete cattle sold into Queensland, Victoria, S.A and NSW.